Meet some of our clients and see what their owners have to say about our service.


Meet M&M. He is a handsome brindle Greyhound. M&M loves his walks as well as playing with his stuffies, followed by a nap in the sunshine when he gets home.
"Kathy is amazing!

Being new to the area,

we were worried about finding the right dog walker for our greyhound, M & M. However, as soon as we met Kathy we knew our search was over. M & M adores her and so do we. She is very professional and reliable and we really appreciate how flexible she is with my schedule. I would highly recommend Kathy--not only is she great at what she does but she is also a genuinely nice person and a pleasure to work with." -
Laurie W.

Say hello to the "puppies" Moose and Daphne. Moose is 6 months old and Daphne is 9 months old. They love to roll and tumble with each other as well as play with their chew toys, and will do most anything for a treat! They get along as well as any brother and sister would. They always are happy go lucky!
"Thanks so much for taking care of Daphne and Moose. It's hard to find someone you trust with your loved ones and we were lucky to find you. You've done and continue to do a great job and We love how flexible you are with our schedules and last minute requests, the informative notes on how our pups are doing, and your experienced observations that we may miss if there seems to be issues of concerns.
We think what you do is great and we will pass your name along gladly to anyone we hear that needs a service as you provide." - Dave F. and Marie S.




Meet Sadie, she is a sweet loving Golden Retriever. She loves her toys as well as walking the streets of her neigborhood often carrying a stick or pine cone! She is a great girl who enjoys her treats and belly rubs.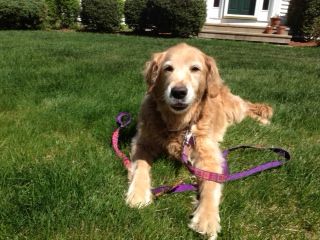 "Thank - you Kathy. We appreciate your work, attention to Sadie and enjoy your updates on how she is doing." Joe & Melanie A.


Meet Tessie, she is a 5 year old yellow lab mix. Tessie tends to be very nervous around strangers. My first few visits with her consisted of me sitting on the floor while she hid under the bed, or behind the couch while I tossed treats to her. But slowly but surely she got a little closer each day until finally she licked my hand and took the treat. We have been best friends ever since. She loves her walks and playing fetch in the backyard. Her smile melts your heart!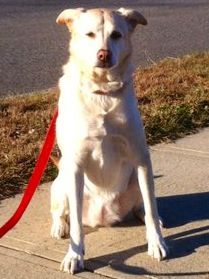 "Thank-you for taking the time to get to know Tessie!" -
Jill R.
Meet Bear. He is an energetic, fun loving puppy who we have aptly nicknamed Goofball! Every day is a new adventure. He loves to walk, chase leaves, carry and chew on sticks, play fetch and is working hard at learning his commands. He is going to be a great dog.
"My four month old yellow Labrador is a very active puppy that requires additional effort and care. I had concerns about finding the right person to care for him during the day while I was at work. There are people who claim to be caregivers, but they are not professional caregivers for animals, who are reliable or trustworthy. Kathy is a professional caregiver, who is incredibly kind, patient and adapts to any situation. During our first meeting she presented her credentials, complete with certifications and references. I was very impressed with the screening process, where she collected complete information about my puppy, his needs and specifics about what type of care he needs. I am now at ease while working during the day and so happy to come home at night and find my puppy happy and well cared for. If you are in need of a caregiver for your special friend, who truly loves the animals she works with, I would highly recommend working with Kathy. " - Courtney S.
Meet Suzy, the Shih Tzu, and Elmo, the Dachshund. They are very sweet and loving. Suzy is always the leader while Elmo loves to stop to investigate all the new smells, while Suzy patiently waits.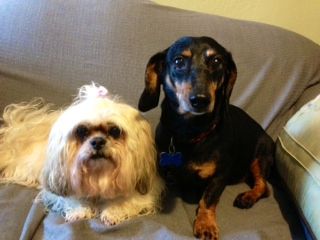 "Kathy is exceptionally caring and very reliable. She has been there for the few pet "emergencies" I have had . I highly recommend her. I know the dogs will always be well taken care of. She is professional, responsible and a true pet lover. What can I say? Hire her, you won't regret it." - Cathy L.